Tanning
---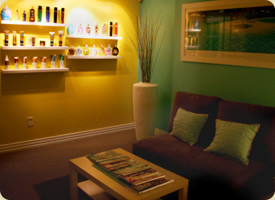 At Perfect Touch Day Spa our professional airbrush technicians are dedicated to providing you with a customized tanning experience in a relaxed, intimate and soothing environment. Perfect Touch brings the right combination of professionalism, knowledge, and comfort that sets a new standard of excellence for the discriminating customer.
We'd like to think of ourselves as Fort Worth's "Best Kept Secret"; a secret hideaway to escape to. We take pride in providing the best customer service experience possible. Here you will find the very latest and most innovative tanning techniques available in the industry.

---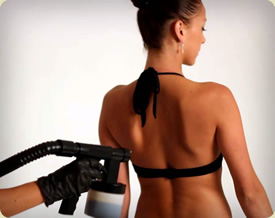 UV Free Tanning
Professional Airbrush Tanning
Natural looking tans in a professional day spa environment. We use the highest quality tanning products that will give you a healthy, natural looking glow. All of our air brush tanning products are 100% vegan and are paraben, sulfate and gluten free.

The Perfect Glow
Our professional airbrush technicians will help you choose a custom shade that will complement you best. Our solutions are organic and designed to firm and tighten your skin. They minimize stickiness and have an allergen-free raspberry almond fragrance. Double Dark - add $10
$45
Airbrush Primer
Applied prior to your airbrush tan, this primer will balance the PH of your skin, hydrate your skin, boost amino acid levels and maximize your sunless color results.
$15
The Perfect Plus
Our very best airbrush tan for those special occasions when only the very best will do. This airbrush tan utilizes a proprietary amino acid propulsion system to boost rapid tan development in as little as one-hour. It also includes the "just off the beach" Venetian color tone that will have you looking like you just spent the day tanning in the Mediterranean sun. The Perfect Plus includes the Airbrush Primer.
$65

back to top


---
Tanning FAQs
How long does the airbrush tan last?
The airbrush tan lasts about five to seven days. This depends on various things. Of course you want to shower, shave and exfoliate before you come in for those treatments. Moisturizing often or using a tan extender help prolong the life of your tan. The less frequent you shave or exfoliate will also extend the life of your tan. Salt water, and chlorine will affect your tan, as they serve as natural exfoliates.
What should I wear when coming to my airbrush appointment?
Dark loose fitting clothing is always best. The DHA may temporarily stain your white clothing. Avoid materials such as nylon, lycra, spandex, or silk.
Do you accept walk-ins for airbrush tanning?
Yes, but we recommend calling ahead to ensure an appointment is available.

back to top
What preparation is needed for the airbrush tan?
To keep your tan as long as possible, exfoliate and shave before getting your UV-free tan. Do not apply lotion as it may act as a barrier to the DHA and the tan will not adhere to your skin. Please remove all make-up as well.
Your Cart

Shopping cart